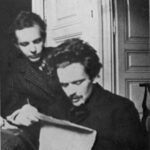 Folk Music, by definition, is the music of the people. It is simple enough that the average person can perform it and it reflects the lives and concerns of its people. Every culture has its own folk music; Music that has been handed down through generations and has endured the test of time. Here is how and why to teach filk music to piano students.
Intriguing and mysterious, folk music is rich with historical references and imagery. Though we rarely know who composed a particular song, there is almost always a story that goes along with it. Folk music can tell us so much about a historical period and the people of that time.
Because of its singable, melodic lines and its basic harmonic structure, folk music lends itself to endless compositional and improvisational possibilities. Many (if not all) of the greatest composers were influenced by folk music. Most notably, Brahms who was fascinated with folk music and Bartok, who together with Zoltan Kodaly, (pictured above) tracked down and cataloged thousands of folk songs of Hungary and Romania.
Folk music is wonderful in so many ways! I believe it is a treasure that should continue to be passed along to our children. Here are some of the ways I make folk music a part of my studio.
How and why to teach folk music to piano students.
1 – I find or write arrangements of folk songs for my students to play. My students and I always investigate the history of each song so that they can learn something about its cultural background. This can include locating the place the song comes from on a map and reading a bit about the area and its people.
2 – We take a look at the lyrics or the translation of the lyrics and discuss interesting new vocabulary that might be included. (Warning! Always check the lyrics beforehand. Some folk songs are not appropriate for children.)
3 – I ask my students and their parents about their own family's traditional folk music. My students love to play music that is a part of their family history.
4 – Folk songs are a great starting point for improvisation and composition. I like to take an easy folk song and improvise a new melody. Most folk music uses only the I-IV-V or V7 harmonization. I take this opportunity to introduce some chord substitutions and have students experiment with alternative harmonies.
Download the free piano duet "Los Pollitos"
Folk music: the music of the people. Nothing is more personal to a culture than its music. Wherever there are people, there is also music. To celebrate, to grieve, to dance, work or rest there is music. In times of peace or strife and from the beginning of life to the end there is a song. What better way is there to connect with humanity; To listen and hear the heart and soul of a people and to teach our children to do the same?
If you would like to find out about becoming a member of Paloma Piano we have a number of very attractive membership options including a free membership that offers a large number of piano scores, teaching resources, and games. The free membership is forever free and no credit card is needed.  Check it out!
You can explore all of our free materials here.
Visit our sister site for students and parents pianoparents.net
---